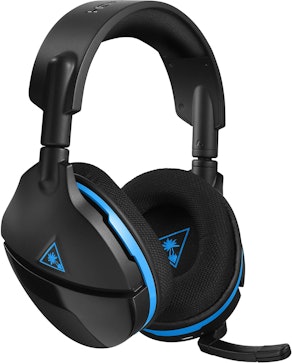 This wireless headset comes in two different versions: one for Xbox One, and one for Playstation 4.
Turtle Beach Headsets are widely considered one of the best original gaming headsets, and their Turtle Beach Stealth 600 wireless headset does offer amazingly great sound quality for a very affordable price. They make two different versions — one for the Xbox One (compatible with Windows 10, though it may require an adapter) and one for the PS4 (which also works with the Nintendo Switch, but only when docked).
This headset is glasses-friendly thanks to its comfortable mesh-wrapped ear cushion design, which relieves pressure on the temples. It offers a long lasting 15-hour battery life and has a range of roughly 25 feet. It also has a highly sensitive flip-up microphone and an exclusive superhuman sound setting, which allows you to hear even the smallest noises. The Bass is incredible and you will experience explosions like never before.
Like most gaming headsets, both the PS4 versions and Xbox One versions of the Turtle Beach Stealth 600 are constructed from plastic and each adorn the signature green and blue colors of their respective console.
Instead of fake leather coverings on the earcups and padding, Turtle Beach Stealth 600 headphones use a mesh fabric—almost a kind of microfiber cloth. It does a nice job dissipating heat and sweat from your ears when you get worked up. The ear cups are spacious and large enough to fit comfortably around most listeners' ears. The headband and ear cups are also well padded.
The Turtle Beach Stealth 600 headphones have a simple button layout for gaming. They provide a microphone and volume dial, as well a fold-up-to-mute feature to completely disable the mic. They have 2 buttons on the left ear cup to switch between audio presets and to turn off/on the headphones.
The Turtle Beach Stealth 600 are a great sounding pair of closed-back gaming headsets. They have a deep tight bass capable of producing low thumps and rumbles and make explosions seem totally real. They also have very good mid and treble ranges, making them quite versatile and suitable for a variety of genres from EDM, to folk, and classical.
The design of the Turtle Beach Stealth 600 is fairly similar to the Turtle Beach Stealth 700 which uses similar plastics and materials. It comes complete with the new angled hinge, which lines up nicely with the new flip microphone when it's in its upright "mute" position, giving it a unique look.
About the Turtle Beach Stealth 600
100 percent wireless : the included wireless USB adapter uses Smart channel hopping Technology for a best in class wireless game and chat audio experience; Nintendo Switch: Wireless compatibility supported through USB connection while in docked mode only; Chat available for games that support in game chat capability

Turtle Beach Virtual Surround Sound : Experience powerfully immersive surround sound audio for your games, movies and music on PS4. 7.1 surround sound emulation for Xbox/USB audio in stereo format for PS4

High quality audio a bigger speaker delivers better quality audio, and the stealth 600 features large, powerful 50 millimeter speakers to delivery crisp highs and deep, thundering lows

Glasses friendly comfort : the ear cushions are wrapped in a breathable mesh Fabric for comfort, and feature Turtle Beach's ProSpecs glasses friendly design which removes pressure on your glasses

Superhuman Hearing : from Quiet footsteps sneaking up from behind to enemy weapon reloads just before an ambush, Turtle Beach's exclusive Superhuman Hearing sound setting lets you hear it all

Audio Connection:Direct Wireless Connection,Speaker Frequency Response:20 Hertz to 20 Kilo Hertz, Transmitter Frequency Response:2.4 Giga Hertz,Speaker Size:50 millimeter Driver with Neodymium Magnets,Battery:Rechargeable 900mAh Lithium Polymer

Plug-In

: wireless for Xbox One/PS4
Available colors: black/blue or white/blue for the PS4; black/green or white/green for the Xbox One
Reviewers say: "The super human hearing is just amazing! Great quality too. I have had cheaper turtle beach sets. This is the best quality feeling and sounding set I've had to date. And the wireless reaches father than even needed."
"Thanks to these bad boys, my boyfriend no longer knows I exist! Bought these for him just to randomly surprise him, he literally fell to the ground! Now he's always on his PlayStation and is playing his games while talking to his friends, but sometimes he lets me listen and wow. These headphones are truly amazing..I don't know what I expected to hear, but when he played Red Dead II, it truly was surround sound..right inside my ears. He said it even helped him play better because he could hear footsteps and sounds from other plays that he normally wouldn't have been able to! It's a must have for any gamer or semi-gamer. They will love it!"
"The Turtle Beach Stealth 600 are very solid headphones for the price. Playable with glasses (its possible they could have made it more glasses-friendly but that would be nitpicking), swinging the mic up to mute is convenient, separate controls for game volume and your own voice's volume are nice. I get a weird squeak when putting them on but I can't imagine it'll develop into an issue down the road. Sound quality is great, very easy to setup with a playstation. A complaint I have is that the playstation tries to play out of headphones when they aren't on if you just turned it on and takes a few minutes to determine it should play out of your speakers, but I'm sure that's a limitation with the playstation, not the headphones, and unplugging the dongle or change a quick setting in the playstation menu solves that pretty quickly. I expect to be able to use this pair for a long time."